Airline
Aeropuerto Adolfo Suárez Madrid Barajas, 28042, Madrid
Telephone 902 111 333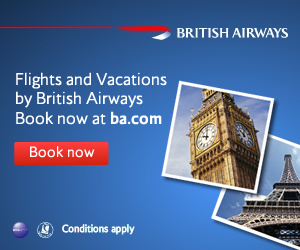 At the airport
Check-in counters at terminal:
Departures of British Airways: Terminal T4, floor P2, 900-905.
Check-in counters may vary depending on the airport needs. Refer to flight Departures in the respective panels of information.
Flight arrivals of British Airways
: Terminal T4, floor P0.
Lost Luggage
Baggage handler of British Airways:
Iberia 902 131 024
terminal T4 P0, baggage reclaim hall 10.
Notes:
VIP Access / Fast Track
History
British Airways has the OACI code: BAW and the IATA code: BA.
In January 2011 Iberia and BA signed a deal to merge, and creat the International Airlines Group ("IAG") group. IAG is the world's third-largest airline group in terms of annual revenue and the second-largest in Europe.

British Airways destinations
British Airways flies direct from Madrid to London (Heathrow), UK, connecting to over 100 destinations worldwide.
Note: Airlines can add or delete routes based on demand and/or season of year.