Airline
C/ Julián Camarillo, 21, , Madrid Telephone 913 754 546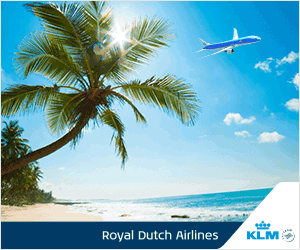 At the airport
Check-in counters in the terminal:
Departures of KLM: Terminal T2 floor P2. check-in counters 427 - 431.
Check-in counters may vary according to the airline's needs. Check flight departures on the flight information panel at the airport.
Auto check-in desks: Check with your airline.
Flight arrivals of KLM: Terminal T2 floor P0.
---
Do you want to be picked up at the airport? Book your transfer now.
---
Lost Luggage
Baggage handler of KLM: Groundforce, at terminal T2 P0, baggage reclaim hall 6. 913 243 746.
Notes:
VIP Access / Fast Track
History
KLM has the OACI code: KLM and the IATA code: KL.

KLM destinations
KLM has the best rate on direct flights from Madrid to Amsterdam. Book Amsterdam and other european cities airline tickets:
Fares New York - Amsterdam. || Check more flights fares.
Note: Airlines can add or delete routes based on demand and/or season of year.
The range of destinations usually offered by KLM may vary due to low demand for flights, until the return to normal after the impact of the health crisis.